Posts for tag: oral hygiene
By Cedar Dental, Practice of Amy M. Kiesselbach D.D.S.
December 11, 2018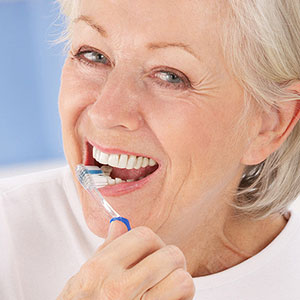 Dental implants to replace teeth are a popular choice as much for their durability as their life-likeness. Most implants last for decades, which can result in lower long-term maintenance costs than other replacement options.
But to achieve this longevity, you must take care of your implants. You should brush and floss them daily right along with your remaining natural teeth — and continue regular semi-annual dental visits for cleanings and checkups.
You may be wondering, though: if they're made of inorganic materials, why worry with brushing them? It's true that bacterial plaque, the thin film of food particles most responsible for dental disease, doesn't affect them.
Your implants, though, don't exist in a bubble: they're imbedded in real bone, surrounded by real gum tissue and placed next to real teeth. All these other living tissues are susceptible to infection caused by plaque, even from plaque on non-organic implants.
The bone and tissues around an implant can even have a higher susceptibility to infection. This is because an implant's attachment in the jaw differs from that of natural teeth. An implant is imbedded directly into the bone; a natural tooth, on the other hand, maintains its hold through an elastic gum tissue between it and the bone called the periodontal ligament. Tiny fibers from the ligament attach to the tooth on one side and to the bone on the other.
Besides holding the tooth in place, the ligament also contains blood vessels that supply the tooth and surrounding tissues not only with nutrients but also antibodies that help fight infection. Due to the absence of a ligament connection, an implant doesn't enjoy the same level of protection from infection. Â It's much easier for tissues and teeth around an implant to become infected, and harder to stop it.
That's why prevention through daily hygiene is so important. So, be sure to brush and floss all your teeth — including implants — every day, and keep up your regular dental visits. And at the first sign of a possible infection — swollen, red or bleeding gums — see us as soon as possible for an examination.
Consider your implants a long-term investment in both your smile and dental health. Taking care of them will pay dividends for many years to come.
If you would like more information on taking care of your dental implants, please contact us or schedule an appointment for a consultation. You can also learn more about this topic by reading the Dear Doctor magazine article "Dental Implant Maintenance."
By Cedar Dental, Practice of Amy M. Kiesselbach D.D.S.
October 31, 2018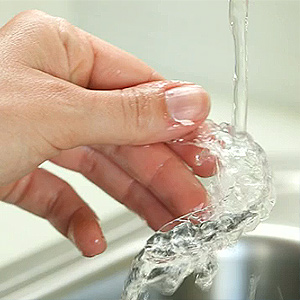 Question: What oral health issue do teenagers who wear orthodontic retainers and older folks who wear dentures have in common?
Answer: Both need to pay particular attention to cleaning their oral appliances.
The same goes for anyone who wears a nightguard to control tooth grinding, a mouthguard to protect teeth while playing sports, or a clear aligner for orthodontic treatment. Yet many people aren't sure how to properly clean their appliances — so here are a few handy tips:
DON'T:
Use toothpaste on your appliance — the ingredients in toothpaste, which are designed to polish the hard enamel of your teeth, are too abrasive for the soft plastic of oral appliances, and will cause scratches.
Boil your appliance, or use bleach to clean it — both will end up breaking down and destroying the appliance. Don't even use very hot water, as it can deform the plastic and make the appliance useless.
Leave your appliance out on the nightstand, or anywhere else — pets and small children have been known to find (and destroy) oral appliances left lying around. Instead, store it properly in its special case.
DO:
Use liquid dish detergent or hand soap to clean your appliance. A little mild soap plus warm water will do a great cleaning job. While you're at it, get a brush just for the appliance — because, while it's fine for plastic, you don't want to brush your teeth with soap!
Put a towel in the sink basin when you clean your appliance. Soapy appliances (especially dentures) can be slippery, and can be damaged by dropping — and that's an expensive mishap.
Consider investing in an ultrasonic cleaner. These inexpensive countertop devices are an excellent way to get the tiny ridges and crevices of your appliance really clean.
Whether you rely on dentures for everyday use, or just need to wear a retainer for a period of time, your oral appliance serves an important function. It may also represent a significant investment. That's why it's worthwhile to spend a few minutes each day giving these important items the care they need.
If you have questions about oral appliance care, please contact us or schedule an appointment.
By Cedar Dental, Practice of Amy M. Kiesselbach D.D.S.
September 01, 2018
When is the best time to floss your teeth: Morning? Bedtime? How about: whenever and wherever the moment feels right?
For Cam Newton, award-winning NFL quarterback for the Carolina Panthers, the answer is clearly the latter. During the third quarter of the 2016 season-opener between his team and the Denver Broncos, TV cameras focused on Newton as he sat on the bench. The 2015 MVP was clearly seen stretching a string of dental floss between his index fingers and taking care of some dental hygiene business… and thereby creating a minor storm on the internet.
Inappropriate? We don't think so. As dentists, we're always happy when someone comes along to remind people how important it is to floss. And when that person has a million-dollar smile like Cam Newton's — so much the better.
Of course, there has been a lot of discussion lately about flossing. News outlets have gleefully reported that there's a lack of hard evidence at present to show that flossing is effective. But we would like to point out that, as the saying goes, "Absence of evidence is not evidence of absence." There are a number of reasons why health care organizations like the American Dental Association (ADA) still firmly recommend daily flossing. Here are a few:
It's well established that when plaque is allowed to build up on teeth, tooth decay and gum disease are bound to follow.
A tooth brush does a good job of cleaning most tooth surfaces, but it can't reach into spaces between teeth.
Cleaning between teeth (interdental cleaning) has been shown to remove plaque and food debris from these hard-to-reach spaces.
Dental floss isn't the only method for interdental cleaning… but it is recognized by dentists as the best way, and is an excellent method for doing this at home — or anywhere else!
Whether you use dental floss or another type of interdental cleaner is up to you. But the ADA stands by its recommendations for maintaining good oral health: Brush twice a day for two minutes with fluoride toothpaste; visit your dentist regularly for professional cleanings and checkups; and clean between teeth once a day with an interdental cleaner like floss. It doesn't matter if you do it in your own home, or on the sidelines of an NFL game… as long as you do it!
If you would like more information about flossing and oral hygiene, contact us or schedule an appointment for a consultation.