Posts for tag: extraction
By Cedar Dental, Practice of Amy M. Kiesselbach D.D.S.
February 09, 2019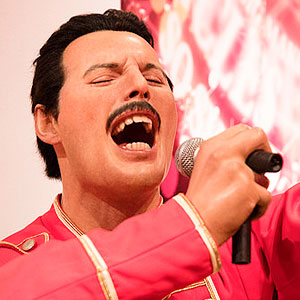 The movie Bohemian Rhapsody celebrates the iconic rock band Queen and its legendary lead vocalist, Freddie Mercury. But when we see pictures of the flamboyant singer, many fans both old and new may wonder—what made Freddie's toothy smile look the way it did? Here's the answer: The singer was born with four extra teeth at the back of his mouth, which caused his front teeth to be pushed forward, giving him a noticeable overbite.
The presence of extra teeth—more than 20 primary (baby) teeth or 32 adult teeth—is a relatively rare condition called hyperdontia. Sometimes this condition causes no trouble, and an extra tooth (or two) isn't even recognized until the person has an oral examination. In other situations, hyperdontia can create problems in the mouth such as crowding, malocclusion (bad bite) and periodontal disease. That's when treatment may be recommended.
Exactly what kind of treatment is needed? There's a different answer for each individual, but in many cases the problem can be successfully resolved with tooth extraction (removal) and orthodontic treatment (such as braces). Some people may be concerned about having teeth removed, whether it's for this problem or another issue. But in skilled hands, this procedure is routine and relatively painless.
Teeth aren't set rigidly in the jawbone like posts in cement—they are actually held in place dynamically by a fibrous membrane called the periodontal ligament. With careful manipulation of the tooth, these fibers can be dislodged and the tooth can be easily extracted. Of course, you won't feel this happening because extraction is done under anesthesia (often via a numbing shot). In addition, you may be given a sedative or anti-anxiety medication to help you relax during the procedure.
After extraction, some bone grafting material may be placed in the tooth socket and gauze may be applied to control bleeding; sutures (stitches) are sometimes used as well. You'll receive instructions on medication and post-extraction care before you go home. While you will probably feel discomfort in the area right after the procedure, in a week or so the healing process will be well underway.
Sometimes, dental problems like hyperdontia need immediate treatment because they can negatively affect your overall health; at other times, the issue may be mainly cosmetic. Freddie Mercury declined treatment because he was afraid dental work might interfere with his vocal range. But the decision to change the way your smile looks is up to you; after an examination, we can help you determine what treatment options are appropriate for your own situation.
If you have questions about tooth extraction or orthodontics, please contact our office or schedule a consultation. You can read more in the Dear Doctor magazine articles "Simple Tooth Extraction" and "The Magic of Orthodontics."
Dental implants offer people an alternative to the traditional ways of replacing missing teeth. The actual implant is an artificial root [anchor] made from synthetic material, usually titanium metal. There are three phases to the implant process.
First, the dental implant is surgically placed into the jawbone. It takes 3-6 months to fuse with the bone [called osseointegration]. An abutment [post] is attached to the implant and protrudes above the gum tissue. A replacement restoration is cemented or screwed to the implant abutment. Depending on the situation, dental implants can support a fixed crown or bridge or act as a stabilizing base for a full denture. The procedure can take up to 9-12 months for completion and has a high degree of success.
Some individuals have had so much bone resorption [loss] that the remaining bony ridge is too thin to hold an implant. In many cases, synthetic or natural bone can be grafted [added] or grown to allow for dental implants as an alternative treatment.
Implants have a great advantage for people already wearing full dentures since they can support and stabilize the denture while minimizing further bone loss of the denture ridge.
Not everyone is a good candidate for dental implants. There are certain risk factors that may limit success including smoking, excessive alcohol consumption, chronic bruxism [grinding teeth], systemic problems such as diabetes and individuals with poor oral hygiene.
Dental implants offer a "second chance" to those who have lost all of their teeth. For people missing only one or several teeth, dental implants provide benefits as an alternative way to restore your mouth. To determine if implants are for you, a clinical examination, x-rays, study casts and other appropriate records and measurements will be necessary. Call our office if you have questions or would like to schedule an implant exam.
Dental emergencies may be categorized as toothaches, injuries or broken appliances.
• Toothache If a toothache develops, using a brush and floss, clean the suspected area. Rinse with warm salt water. Do not place an aspirin on the gums or tooth [this may cause a burn]. Apply a cold compress to any facial swelling. Take acetaminophen [Tylenol] and call us as soon as possible.
• Extruded Teeth If a tooth is pushed either inward or outward, try to reposition the tooth using light finger pressure. Do not force the tooth into its socket. Try to get the injured person to us as soon as possible. The tooth may be stabilized and held in place with a moist tissue or gauze on the way over.
• Fractured Teeth First rinse your mouth with warm water to keep it clean. Immediate dental care is necessary. The treatment will depend on the severity of the fracture and could range from smoothing out the chip to bonding with a resin [tooth colored] material to placing a crown [cap]. If there has been pulp [nerve] injury, root canal may be necessary at once or at a later date.
• Soft Tissue Injury The tongue, lips or cheeks may be bitten, lacerated [cut] or punctured. If there is bleeding, apply firm pressure with a gauze or clean cloth. If bleeding doesn't stop within 15 minutes, bring the person to our office or a hospital emergency room. Sutures [stitches] may be necessary. Otherwise, clean the area with warm water on a gauze or clean cloth. Apply an ice compress to the bruised or swollen area. Contact us for further instructions.